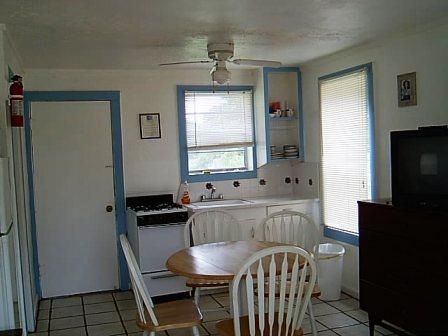 All cabins are the same size and sleep four to five, but each is unique and has its own character. Each cabin is water front with a picnic table, large live oak and pecan trees for shade. There are fire pits and BBQ pits and lawn chairs available water.
Each cabin has AC, heat, TV, oven with stove top, refrigerators, microwaves, coffee maker, towels, linen for beds, pots/pans/ dishes, eating and cooking utensils, dish soap, toilet paper, trash bags, BBQ pits and picnic tables outside
You may consider bringing paper towels, beach towels, lawn chairs, charcoal, lighter fluid, personal bar soap, shampoo/conditioner, spices for cooking, camera, fishing poles, floats, food, drinks, and bottled water.
There is a maximum of four people per cabin unless approved by management and additional fees will be required of $10/night.

The current tax rate is 10%. Prices are subject to change. There is 3% rate for credit card use.

There is a one night deposit requied when making reservations. The deposit applies to the last night of the reservation.
You must cancel your reservation 14 days prior to the date of arrival in order to receive a refund.

Day guests/visitors MUST pay entrance fees of $10.00/person/day for use of the facilities.

This property is privately owned and management reserves the right to refuse service to anyone.

Covered boat dock storage is available at $10/night, however you can tie up at any of the uncovered areas or in front of your cabin for free during your stay.

Pet Policy We allow pets with prior management approval. The rate in cabins is $10/day/pet. They must be supervised at all times while on the grounds. They are not to be left unattended in cabins, PLEASE do not allow them on the furniture, blankets or beds.



Cabin Rates are based on two person occupancy, add $10/per person per night up to four people max:
Two nights $100/night
Three nights $95/night
Four nights $90/night
Five nights $85/night
Six nights $80/night
Week $75/night